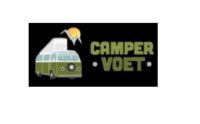 Address
2e Industrieweg
4147 CS
Tel: (+31)6 184 100 35
Fax:
Information
Camper Voet was founded by Marcel Voet and Sharony Bosma. They met each other on holiday in Spain. Marcel then made a tour through Europe with his Volkswagen camper. That's where the sparks flew and so often went away together with their own VW camper. They enjoyed this so much that they wanted to give others the chance to experience this ultimate feeling of freedom for themselves.
Based on a passion for (retro) Volkswagen motorhomes, it was decided in 2014 to make this dream a reality. What could be more fun than refurbishing campers yourself and then renting them out? The faces upon return are definitely worth it. Three of the fleet benefit from having Propex Heaters installaled.
All motorhomes have been refurbished in their own workshop together with an MOT inspector. This has been done with such precision and dedication that we are sure that you too will have a great time in one of the motorhomes.
More was soon added from the rental of Campers. And now also fit Propex Heating systems and accessories for other Campervan owners.