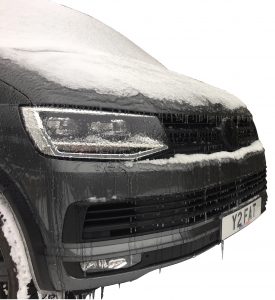 This LPG vapour tank kit is by far our best seller and so echo's the popularity of the excellent and legendary Volkswagen van, converted by many companies and home converters countrywide into multifunctional motorhomes.
The tank is 15 litre water capacity so at the 80% cut-out will hold 6kg of LPG. The tank sits in-front of the spare wheel and picks up on four existing holes in the chassis, holes normally used by the diff on the 4motion model. These holes are drilled to take the supplied 13mm rivnuts so ensuring a strong and secure mounting for the tank.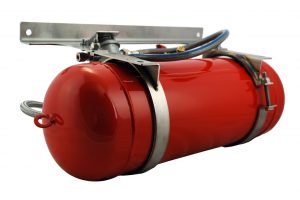 All the tank brackets are made from 3mm stainless steel ensuring the mounting requirements of R67.01 are well exceeded but, more importantly, resist the ravages of life under a vehicle so do not suffer the fate of many other suppliers gas tanks where the hoops corrode causing the tank to drop off. The tank will arrive at the installer/converter fully assembled into its cradle, fitted with its high pressure hoses. A 30mbar Cavagna regulator is fitted to the support bracket and connected with its pigtail to the tank. Its position means it is tucked up nicely out of the way of road spray and debris and, inline with regulations, above the liquid level outlet of the tank.
A 1.25 metre fill hose connects the filling point that discreetly sits under the rear bumper where it picks up on a chassis to bumper bolt position that ensures a good strong mounting, thus exceeding the minimum pull force drive away requirement. The fill point bracket can also be supplied with a quick release point to allow easy connection of your gas BBQ so taking full advantage of your cheap plentiful gas supply.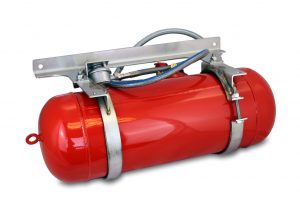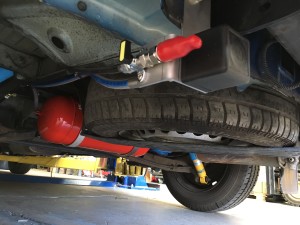 Fitted to the tank valve is an electronic solenoid and gas level gauge. both of these are remotely controlled from inside the vehicle allowing easy isolation of the gas back at the tank, something that is required when travelling in the Eurotunnel but also an excellent safety feature for general use, all done without having to scrabble around on your hands and knees under the vehicle. The inbuilt level gauge will show you how much gas is left in your tank and with its inbuilt battery power saving feature means drain on your battery is kept to an absolute minimum (<100mA@3V after 2 seconds activation) Selectable LED intensity and inbuilt fault diagnostics are also a feature of the unique and revolutionary Gastore control marking a massive step forward in the safety and convenience of underslung LPG storage (Beware of expensive imitations!!)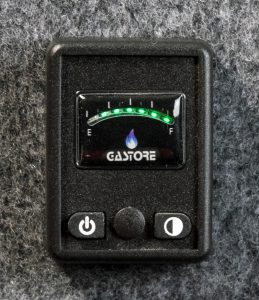 VW T5/6 Features
15 litre tank – @80% fill holds 12 litres or 6kg of gas
Tank brackets all 316 Stainless steel
Kit Weight 14kg (dry)
Mounted to vehicle using 4 x M10 bolts (supplied)
Kit supplied pre-assembled and pressure tested.
Gas pressure test point on regulator
CE and R67 approvals – exceed UKLPG Cop11 when installed to instructions.