Caravan & Motorhome Servicing and Repair Workshop in Ringwood Hampshire
Our caravan workshop is now open for caravan & motorhome servicing, maintenance and repair. Under-slung LPG gas tank fitment and heater installations. A mobile service may be available on request 
Based in Ringwood on the edge of the New Forest and on the borders of Hampshire and Dorset, our workshop has been assessed and approved to fully meet the requirements of the  Approved Workshop Scheme, this being a joint enterprise between the NCC (National Caravan Council), The Caravan Club and The Camping and Caravanning Club.   Our Service is ideal for caravans, motorhome, campervans, RV and VW van and combi owners. Not only perfect for locals but also for visitors to the New Forest and the south coast towns of Bournemouth, Christchurch, Poole, Verwood, Ferndown and surrounding areas.
Heater installations
Habitation checks
Gas installations
Underslung LPG tank installation and servicing
Electric installations
Safety checks
Heater repairs
Fridge repairs
Restorations
Water & Damp ingress reports
Workshop Pricing Contact us / Book your service Underslung LPG Vapour Tanks
While you wait
If applicable some servicing can be done while you wait. While you are here you can browse our showroom of Propex blown air heaters, water heaters and compressor fridges. We also have in stock many caravan and motorhome accessories from Whale including their taps, submersible pumps, water systems and filters. Of course you could always take a walk around the historic market town of Ringwood, or take a stroll along the river or a longer walk into Moors Valley country park. We also make a nice cup of tea.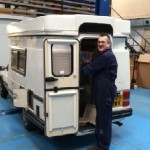 Your engineers
Billy, our resident caravan engineer, has a wealth of experience gained in the caravan and motorhome service and repairs industry and has a broad knowledge base from gas and electric to body repairs and damp. He has been on many courses to keep up to date with his skills to include: Elddis Solid construction, Alco, BPW and Alde, as well as holding his GasSafe certificate and Electrical low voltage ticket. Billy is also responsible for servicing and repairing Whale Expanse water heaters sent to us.
David has been responsible for the manufacture, service and repair of our Propex heaters since their inception. He repairs the complete Propex Heat-Source range, as well as the Compact 1600, and of course, the Whale Heat-Air space heaters.
In our Gas Tank Assembly room, we have Jason and Joe. It's in this space that both assemble our Gastore LPG gas tank kits that are suitable for a wide range of different vehicle types, including the T5/T6, Sprinter, Crafter and Ducato. They are also on-hand to offer support for installing the LPG tanks on vehicles that come into our workshop and to customers who phone us directly.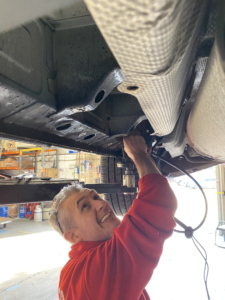 We are very pleased and proud to have gained National Caravan Council Approved Workshop Status and our engineers hold all the relevant certification including Gasafe, Gas ACOPS, Electrical test and Inspection,  Low Voltage Electrical circuits and City and guilds Caravan Repairs.
Caravan & Motorhome Service & Repairs in Hampshire